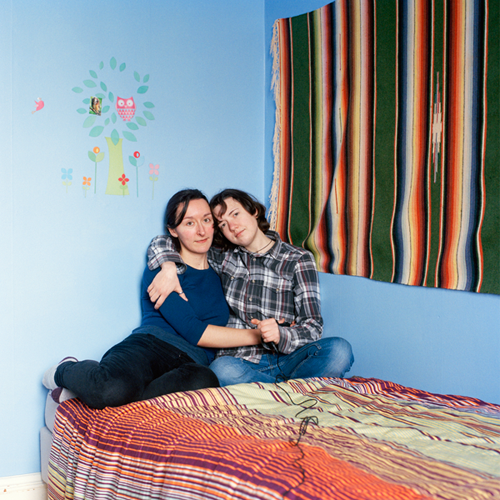 Emma and Zoë at home, 2013
For my final undergraduate project I am working with members of the LGBTI community in Edinburgh to produce an extensive, empowering portraiture series, working title
Eligible
. The representation and visibility of sexual and gender minorities in Western society and visual media is still far below quality standards, with marginalisation and stereotypical representation - or even complete erasure - of whole communities causing misinformation, prejudice and discrimination to remain rife. This project aims to increase visibility and correct representations by working with regular people, all volunteers, combining traditional environmental portraiture with a shifting in power from the photographer, or
taker
of the image, to the individual(s) in front of the lens. The images are constructed in collaboration with participants in places special to them, carefully planned with a high-quality analogue film camera set up. Right before the moment of exposure, the sitter is given ultimate control of the shutter release by handing them a long squeezy cable release, making them in effect the final "takers" of their own image. The resulting photographs should thus be personal and unique representations of individuals who belong to a marginalised demographic, but who are taking a stand by acknowledging this traditional hierarchy and
looking right back at those looking at them.
The cable, kept completely visible, is the physical manifestion of this pride. If successful, this project will be exhibited both at the Edinburgh College of Art Graduate Degree Show as well as the
Free Range Art & Design Show in London
, both in June, enabling good visibility and hopefully some real effect.
For the very first session a few weeks ago, I got to work with Emma and Zoë, who kindly invited me to their home where we had some tea and biscuits, and I got to meet a giant snail. I am so grateful for this opportunity and the brave ladies who signed up to participate! The ball is now rolling with an amazing number of people already volunteering for this, most complete strangers to me, united by a common cause. Several more sessions are already in the bag as well and I have met some truly wonderful new people!
But this is only the beginning. If you would also like to take part, please comment here, shoot me an email (address is in the sidebar) or find me on Facebook/ECA campus/anywhere! EVERYONE is encouraged to participate, and at no point does the project ask anyone to define or label themselves in any way - this project is not about 'what', it is about 'who'. Nevertheless I would like to take the opportunity to especially encourage the trans* and intersex individuals among us who I feel are most often left out even in otherwise inclusive LGBTI circles and happenings, and the representation of whom in popular visual culture still remains particularly narrow and awful, to consider taking part. :)
Spread the word, I can't do this alone!